The RAM Motorsport Mercedes-AMG GT3 prepared by GWR Australia has recorded an unfortunate non-finish in today's Liqui-Moly Bathurst 12 Hour after Bathurst's typically variable weather conditions induced a couple of altercations with Mount Panorama's unforgiving concrete walls.
The day began in promising fashion, with Brett Hobson starting the race and running as high as fourth during his stint before handing over to Garth Walden at the first pit stop.
Walden returned to pit lane shortly afterwards for the team to fit wet weather tyres to the Mercedes, as the rain started to fall at Mount Panorama. He maintained the car's position inside the top five, with a solid stint where he battled against several Pro drivers.
Michael Sheargold climbed aboard for his first stint at the 2hr 45min mark and was accumulating valuable experience on the wet track before being caught out by the slippery painted white lines on the exit of the Dipper and brushing the wall.
Sheargold was able to drive the car back to the pits and the GWR team executed repairs to the damage, which was mostly cosmetic, in a pit stop that lasted around 40 minutes and saw the car dropping 15 laps on the leaders.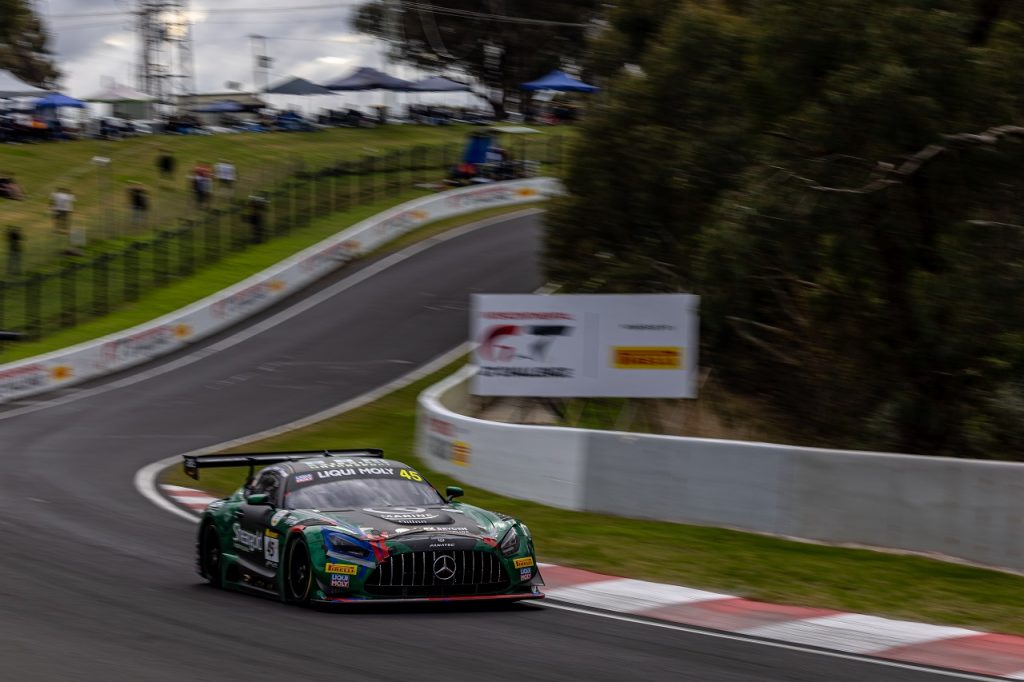 From there, the three drivers continued to circulate, changing to slick tyres as the track dried out. However, another shower of rain fell on top of Mount Panorama at the nine-hour mark, catching out the unfortunate Sheargold, who was again behind the wheel and this time on slick tyres. The Mercedes glanced the wall at McPhillamy Park and this time, the damage was terminal.
"It wasn't the day we hoped for today," Sheargold said.
"The start of the race went well, but the tricky conditions triggered a couple of setbacks that ultimately put us out of the race."
"The Bathurst 12 Hour is a tough race and it was a baptism of fire for Mike today, having to deal with such difficult conditions," Walden said.
"While it's a shame we didn't finish, I'm pleased with the way we tuned the car setup throughout practice and qualifying and I'm proud of the team's efforts in repairing the car after the first incident.
"I had a lot of fun during my first stint, so it's a shame the race didn't finish how we hoped," Hobson said.
"The car was strong in both wet and dry conditions and I had some fun battles at the start."