It was another busy weekend for the GWR Australia squad in the NSW State Championship day/night race meeting at Sydney Motorsport Park on Saturday, 25 June, with the team running a total of 11 cars across the NSW Supersports and NSW Production Touring Cars.
In the Supersports category, Peter White enjoyed a consistent weekend with fifth in Races 1 and 2 and fourth in Race 3, using his Radical SR8 to take the fight right up to the theoretically much faster Wolfs. As a result of the solid points Peter banked from the weekend, he moved up second in the championship, just seven points off the lead.
The other Radical SR8 in our fleet was driven by Steve Roberts, who put in one of his personal-best performances in Race 1 to finish eighth overall. Unfortunately, Steve was caught up as the innocent victim in a Turn 2 collision at the start of Race 2, which caused enough damage to end his weekend.
Another of our drivers to be prematurely sidelined was Darren Barlow, who suffered an engine failure in his Stohr in Race 1. Not to be discouraged, Darren made the most of his knowledge of the Supersports category with a guest appearance in the commentary box for the Blend Line TV stream.
Former two-time Supersports champ Steve Champion enjoyed a much more satisfactory weekend after some recent misfortune, finishing third in Class 1 in the opening race; after falling to the back of the field with a Race 2 spin, Steve fought his way back through the field in Race 3.
Ash Samadi also showed good pace in his Radical SR3 XX but endured some electrical problems which saw him falling down the order; he ultimately missed out on starting Race 3. Sue Hughes had a typically fun weekend, was involved in some close battles with other competitors and scored a best result of 17th in Race 3.
Watch Supersports Race 1 HERE.
Watch Supersports Race 2 HERE.
Watch Supersports Race 3 HERE.
GWR also ran five cars in the NSW Production Touring Cars night-time enduro. In terms of outright placings, the Ben/Michael Kavich Mitsubishi Evo ended up as the best-placed entry in eighth outright, despite a couple of spins in the final corner.
Brent Howard had a trouble-free run to 12th outright (second in Class A2), but the two Mercedes A45 AMGs of Michael Sheargold/Alex Bryden and Garth Walden/Michael Auld suffered front-right tyre failures which relegated them to 16th and 26th respectively, the Walden/Auld car also losing drive to the rear wheels in the second half of the race.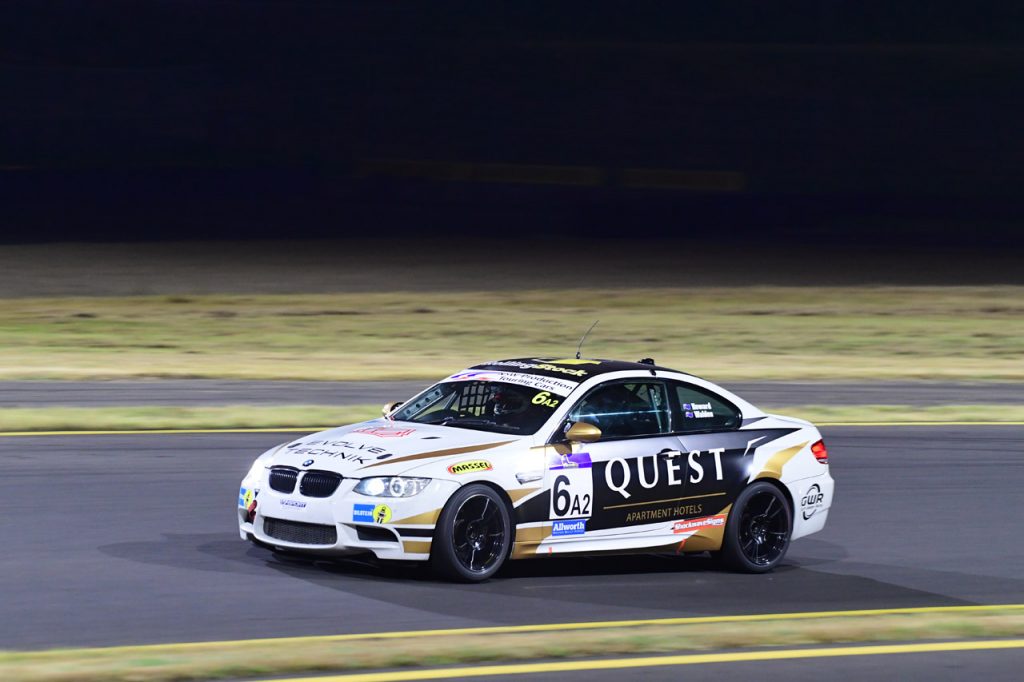 Michael's son Hayden Auld also made his NSW Production Touring Cars debut in Class E aboard a Hyundai Excel, finishing an impressive 28th outright ahead of some far more powerful machinery.
Watch the NSW Production Touring Driver A sprint race HERE.
Watch the NSW Production Touring Driver B sprint race HERE.