GWR Australia's Nissan GTR entry of Brett Hobson has been robbed of a likely victory in its final outing during the Fanatec GT World Challenge Australia powered by AWS finale at Mount Panorama.

The Hobson Motorsport owned car started the race from ninth on the grid, with GWR stablemate Garth Walden fifth in the car owned by RAM Motorsport. The first half of the race was punctuated by two safety cars, both for incidents at McPhillamy Park, which worked in favour of Hobson and against the Walden/Michael Sheargold entry.

With the pro drivers starting the race, early safety cars meant the inherently quicker drivers could not pull away from Hobson. Counter to that it meant Walden could not make use of his speed to build a gap over the competition, despite both he and Sheargold being AM class drivers it was clear across the week that Walden had the pace advantage between the pair. That pace disparity had been closing over the course of the round, with Sheargold coming to grips with GT machinery aided by the experience of Walden.

The entire field pitted under the second safety car, with AM drivers hopping in for those entries with multiple drivers while Hobson fitted a set of new tyres that had been saved for the race across the week. The GWR pair re-joined with Sheargold ninth and Hobson 10th. The fresh rubber on the outgoing Nissan GTR, to be replaced with a newer model for 2022, allowed Hobson to make moves up the order. It was the daring and bravery of Hobson though that saw him catapult up to second in quick time.

"It was a bit sketchy trying to get through, I tried to get one car into turn two and we touched. Then I had a good crack around the outside at McPhillamy Park which was wild. We were down a couple of spots because of a small fumble in the pit lane so I was pushing hard to get back by," Hobson said.

Hobson made an incredibly bold move around the outside at the metal grate, a high-speed corner across the top of the mountain usually reserved for single file racing. With Hobson up to second he closed down the gap to the race lead and was mere moments away from being close enough to overtake. Unfortunately, his chances of challenging for the race lead were compromised when he was baulked by a lapped car on the racing line at a narrow part of the circuit, losing multiple seconds and forcing him to settle for second.

"It was good to get second outright today; we struggled over the past day or two getting through the race and qualifying, managing our tyres to save a set of greens for today," Hobson said.
We set out a plan for the race which panned out, with the two early safety cars. We had a good set of tyres for the run home, I was driving the wheels off it trying to catch Liam (Talbot). I was putting pressure on him and then had a bit of an issue with a lapped car. These things happen."

"Other than that all is good, great to give the old girl a send-off like that and we'll hit the ground next year running," Hobson concluded.
Despite numerous outright podiums including a victory, the individualised points structure of the Trophy class left Hobson second at the final tally, eight points shy of the title.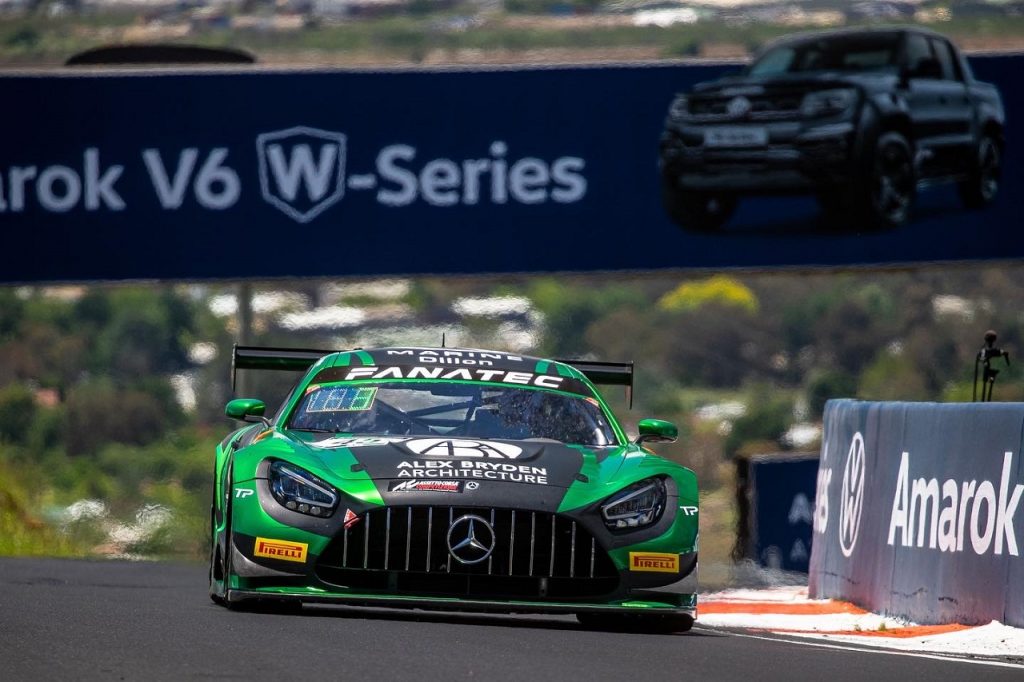 Sheargold meanwhile held his own in the AM class battle further down the order. The Mercedes entry had recorded a second place in class just one day prior in its first appearance in the category. Showing their consistency ahead of an expected full campaign in 2022, Walden and Sheargold secured another runner up finish in AM class with ninth outright.

"It was great to race with some of the experienced guys and tussle with them, I did a personal best in the last race and we came away with a trophy so we couldn't have asked for a better weekend," said Sheargold.

"This weekend was all about preparing for next year. We've done some test days and this round has helped us gain an understanding of how the car behaves over a race weekend."

"The car was great all weekend, we kept tuning it up and we didn't even use new tyres today like most people," Walden added.

"It's a really stable car and we both felt that. The setup to accommodate both our driving styles worked well; it was a bit of a dress rehearsal for next year so to come away with a trophy is a good weekend," concluded Walden.