The Porsche Paynter Dixon Carrera Cup Australia Championship heads to Melbourne's Sandown Raceway for Round 6 this weekend, and GWR Australia's two drivers, Dylan O'Keeffe and Duvashen Padayachee, are fully prepared for whatever weather is in store.
O'Keeffe and Padayachee both tested at the venue last month, where they were treated to a mixture of wet and dry conditions. Padayachee said the opportunity to experiment with a wet setup will be an advantage should it rain this weekend.
"At the test day, we initially went out with a dry setup on the wet track and it was a bit tricky to drive, but once we made some changes it was actually a good wet-weather car – the handling was very predictable," Padayachee said.
"If there's any rain this weekend, we'll know what to do with the setup straight away and both Dylan and I also have a good understanding of driving techniques on a low-grip surface."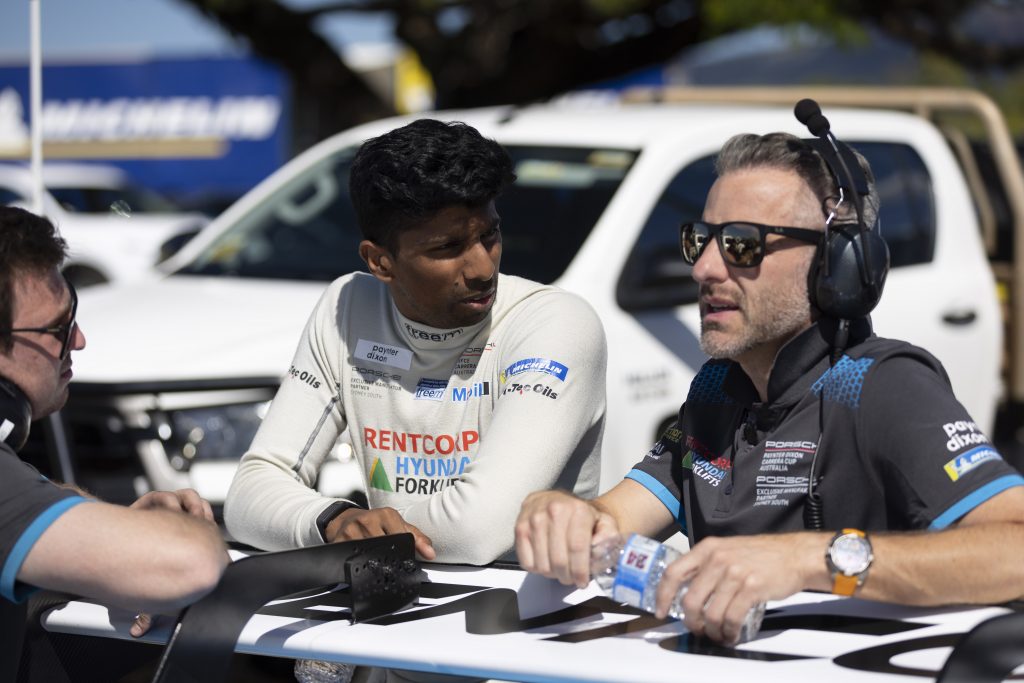 After sitting out the last round at The Bend so his father Indiran could have a drive, Duvashen is looking forward to being back behind the wheel.
"Dad had a lot of fun at The Bend, but it's my turn again now!" he said.
For O'Keeffe, the Sandown round is critically important as he aims to fight for the title. At The Bend, where he achieved his third podium finish from the last four rounds, O'Keeffe closed to within just 46 points of the championship lead.
We need to keep the momentum going and set ourselves up for a big attack on the title in the last two rounds at Bathurst and the Gold Coast," O'Keeffe said.
"So far, our championship campaign has been built on consistency, so we'll aim to keep that going."
Carrera Cup practice kicks off on Friday, ahead of qualifying and racing on Saturday and Sunday.
Carrera Cup Round 6 Schedule
Friday, 19 August
9:40am – Practice 1 (20 min)
12:30pm – Practice 2 (20 min)
Saturday, 20 August
9:55am – Qualifying (10 min)
2:45pm – Race 1 (18 laps)
Sunday, 21 August
9:20am – Race 2 (31 laps)
2:20pm – Race 3 (18 laps)