After the cancellation of last year's event and not being able to attend Targa Great Barrier Reef and also Targa High Country this was the first Targa event for Red Thunder. Given the wet weather and unprecedented ending to the event Daymon and I were extremely satisfied to finish with the car unscathed.
Result
We finished the event 4th in GT Outright (our class) and 5th overall. The 2020 / 2021 change in the regulations meant the old GT2 (2 wheel drive) and GT4 (4 wheel drive) classes are now combined. We were the 2nd 2WD outright behind Eddie Maguire in his Dodge Viper ACR Extreme. The Viper has a much softer tyre, lots more downforce than us and Eddie is an extremely capable driver with a few years under his belt in the same car. A longer, dryer event will suit us much more. Next year for the 30th running Targa Tas will be in early march and over 700km. This is a better time of the year weather wise and with the extended km we should be in good shape.
Event Report
The 29th running was set to be the longest course in the history of the event with 37 stages covering 619km competitive km over a gruelling 6 days. Daymon and I heavily invested in recce completing over 4,000km in 7.5 days over two trips. Our approach for the event was to have fun, be safe, collect footage (critical for future improvement) and be there to take advantage of any opportunities that may present. We knew we would be competitive in the dry but the wet was a big question mark. Ultimately the competitive distance for the event was shortened to 511km due to a number of stages being either downgraded or cancelled.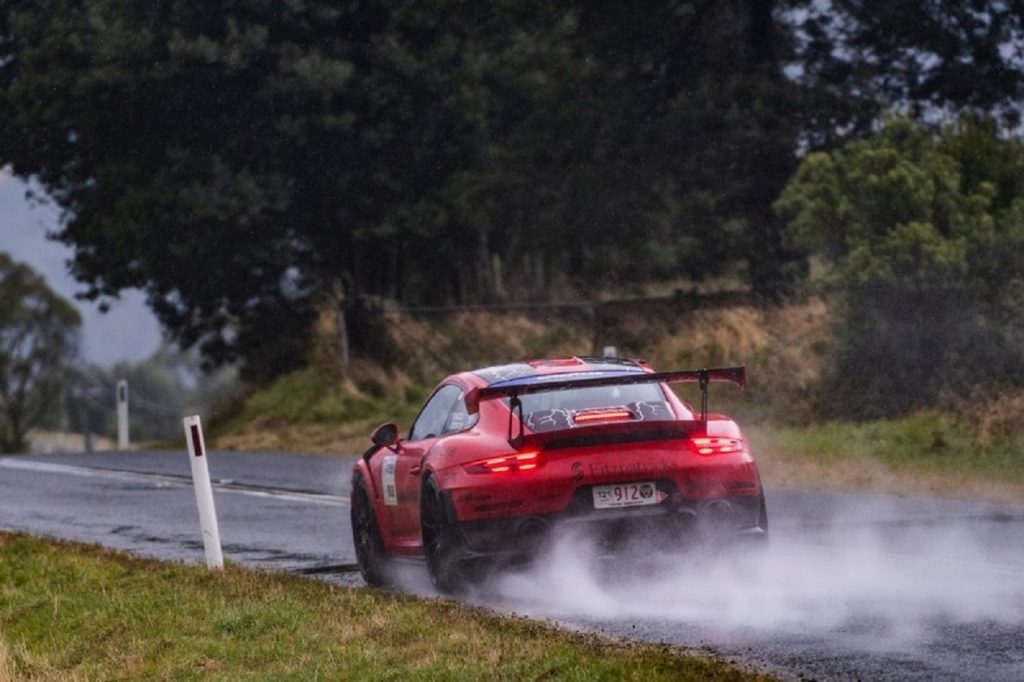 Day 1
6 stages (76.89km competitive) dry running including 2 new stages. We finished the day 2nd 41s off the lead after Jason White had mechanical problems and dropped to 8th. We were particularly strong in the new stages. The day was capped off attending the Porsche Tour dinner at Josef Chromy wines and a quick Q&A with Toni Andreevski Director of Marketing & Motorsport for Porsche Cars Australia.

Day 2
6 stages (65.79km competitive) eastern loop including Sideling, Elephant Pass & Rossarden. The rain pounded down and at the back of the field we got the worst of it. Sideling in particular was like ice and we struggled to build any temperature into the tyres. We finished 23rd and bled time but managed to improve our relative performance in the wet finishing Rossarden 9th. At day's end we'd dropped to 5th in class but the big news was Jason White's crash in Moorina that ended their Targa.

Day 3
5 stages (120.91km competitive, downgraded to 99.98km competitive) including the iconic Cethana stage with the highest top speed of the event. With overnight temps of -6c forecasted at Mt Roland the only concern was icy conditions, the skies were crystal clear. We took advantage and won both Cethana and Castra outright. We did well in Oldina (Maguire's local stage) with the rain falling from about 1/3 through the stage onto dry road. We kept temp in the car and came 2nd, only beaten by Maguire. Hellyer Gorge was downgraded due to local roadworks and Rinadeena (Strahan reverse) was wet. We ended the day 5th in class with 1:08 gap to Tony Quinn's r35 GTR in 3rd.

Day 4
6 Stages (120.37km after Murchison & Hellyer Gorge were shortened) in a mix of wet, torrential and dryish conditions including the roller coaster Riana. It was the usual story with us bleeding time in the wet and fighting at the front in the stages that were mostly dry. We had a great run through Riana which was mostly dry – finishing 3rd (13s off a stage win) after being held up for over 1km by a fellow competitor. In the final stage of the day Reece Dam we were caught in a small monsoonal cell at the worst possible part (could not see at all) and at end of day we were still 4th in class but now in no man's land 3:19 behind Quinn.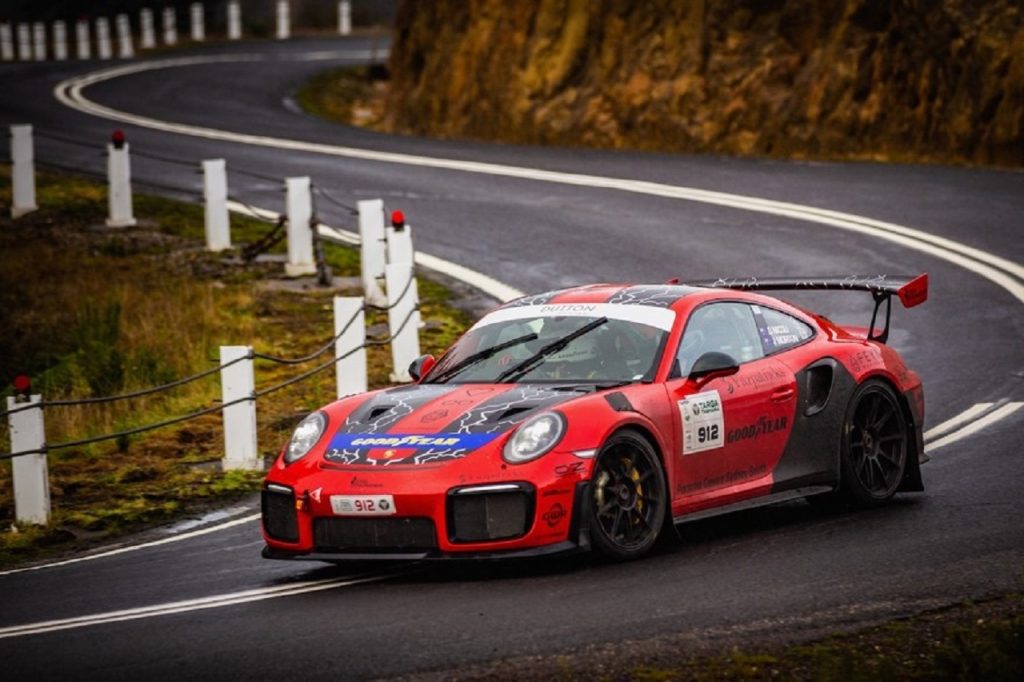 Day 5
6 Stages (116.25km competitive) in a majority of wet conditions including the famous '99 bends' of Queenstown and the epic 52km Mt Arrowsmith. Just as we pulled up to the start control at Queenstown the rain started and it was like driving on ice. Mt Arrowsmith was an improvement and although wet with some rain the horsepower of Red Thunder helped us to limit the time loss (once straight!). It was a shock to hear about the passing of Shane Navin in the Mt Arrowsmith stage – we received the news at the lunch stop. It's the first event I've been at where at death has occurred but you just have to put it out of your mind when you still have two stages left to complete. All competitors were asked to put black tape across their driver headlight as a sign of respect for Shane on the final day of the event. The rain chased us all day until the last two stages in Hobart where we had a 4th in Molesworth and tied for a stage win in Grasstree Hill. We maintained 4th in class and were looking forward to the forecasted dry conditions for the final day.

Day 6
8 Stages (93.8km competitive planned but only 3 stages totalling 31.36km were completed) in what was supposed to be dry conditions but ultimately ended up being patchy dry / damp and even some rain on the three stages that ran. Our running order meant that we generally got the worst of the conditions as a those further up the order managed to get dryer runs. The rain had cleared and we were really looking forward to a dry run through Cygnet when we were stopped only a few cars back from the start line. We knew there was a serious incident when we were told to turn around and proceed directly to the final stage Longley, skipping a few stages that we were supposed to repeat. Longley was also downgraded to a transport stage and it was at this time we found out that a further two deaths had occurred in Cygnet. It was a big shock as I knew Dennis Neagle personally. He navigated for me in my first Targa Tas back in 2017 also taught me stage notes. It was a very surreal moment pulling up in the bus stop bay after the Longley finish congratulating our fellow competitors for completing what was one of the toughest Targa Tasmania events of all time.

There was no public podium presentation or champagne shower this year, instead Targa opted to do the presentations at their dinner on Saturday night. It was the first Targa event that I've completed not being on the podium but I did receive a Targa Gold Plate for completing all stages in 3 consecutive Targa Tasmania event below the Trophy time.